We are pleased to announce our first virtual version of the official REDCap administrators' conference – 3 days – varying times to assist international attendees and presenters – September 22-24, 2020! *
*Dates may range between September 22 and 25 for some attendees. See below for more details.
Hold these dates and times on your calendar. Actual daily end times may vary as programming is developed. Check local times as needed.
September 22 – 10:00 AM – 3:00 PM Central U.S./3:00 PM – 8:00 PM GMT
September 23 – 6:00 AM – 11:00 AM Central U.S./11:00 AM – 4:00 PM GMT (September 24 AM for some attendees)
September 24 – 5:00 PM – 10:00 PM Central U.S./10:00 PM – 3:00 AM GMT (September 25 PM for some attendees)
Example times/dates: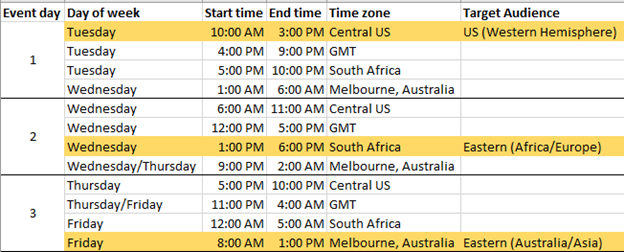 Target Audience
The content of the conference is designed for REDCap Consortium members, that is, REDCap administrative and technical team members who maintain and support REDCap at their own institutions, and who provide global support of REDCap through consortium efforts. The conference is NOT designed for end-users (researchers, etc.) of the software.
Learn more about the history of REDCapCon here.
Conference Registration
Conference registration is free and runs September 1 – 15, 2020 U.S. Central Time. Please mark your calendars and check the website regularly for details on how to register.
Programming Highlights
What's New and What's Next in REDCap, interesting use cases, administrator training, and more!
REDCapCon v2020 Agenda

– Coming Soon!
Details will continue to be added as programming develops.
Questions?
Please direct general inquiries about the REDCapCon v2020, including programming inquiries, to redcap@vumc.org.